Toonbots archive - episode published 20010916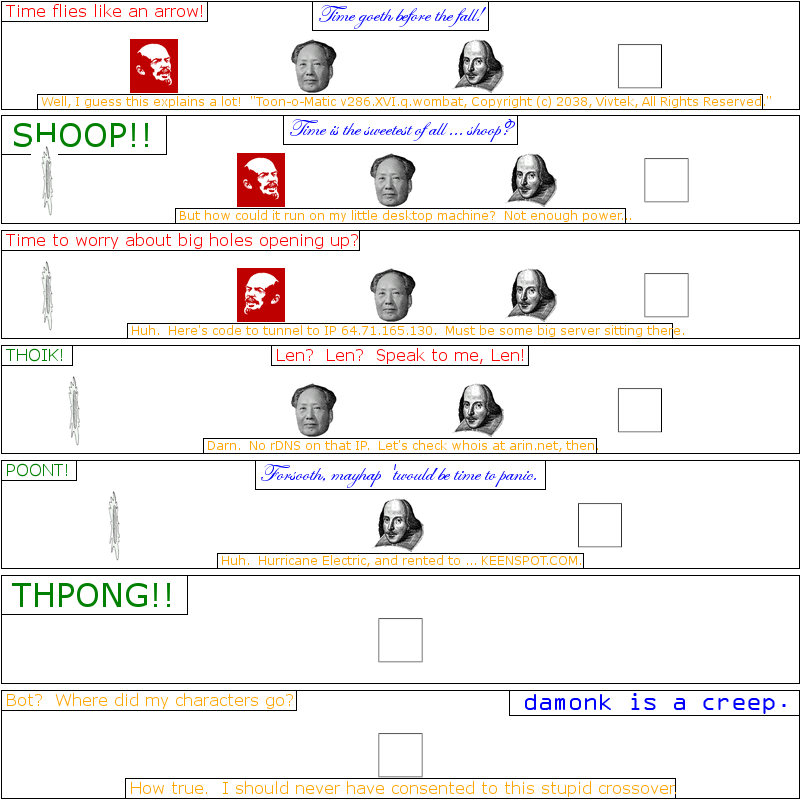 First toon
Previous toon
Next toon
Today's toon
BWAhahahaha! The metacartoonist doesn't know what hits him! Shut up, blurb boy. Aha! Back for more, eh?!? Yeah, well, Damonk is a creep. Step outside and say that! Oh, shut up and tell the people to continue the storyline at Boarders and Sister.

*ahem* The metacartoonist strikes a new trail into the uncharted wilderness of minimalist crossover, by deigning to participate in the so-called Great Framed Escape. Those fans who appreciate the well-honed metacartoonery of Toonbots will probably sniff in disdain at Damonk13's sprawling chaos of a catastrophe, but it's worth a casual laugh or two.

Now if you don't mind, I'm late for lunch with the Greystone Inn narrator.
The script used to make this toon:

<cartoon height="800" width="800" rowformat="1">
<panel>
  <character name="lenin" aspect="faceright"/>
  <character name="mao"/>
  <character name="will"/>
  <character name="bot"/>
  <caption location="top left" fgcolor="red">Time flies like an arrow!</caption>
  <caption location="top middle" fgcolor="blue" font="itcedscr" size="24">Time goeth before the fall!</caption>
  <caption location="bottom middle" fgcolor="orange" size="12">Well, I guess this explains a lot!  "Toon-o-Matic v286.XVI.q.wombat, Copyright (c) 2038, Vivtek, All Rights Reserved."</caption>
  <character name="lenin" action="leaves"/>
  <character name="mao" action="leaves"/>
  <character name="will" action="leaves"/>
  <character name="bot" action="leaves"/>
</panel>
<panel>
  <character name="portal"/>
  <character name="lenin" aspect="faceright"/>
  <character name="mao"/>
  <character name="will"/>
  <character name="bot"/>
  <caption location="top left" fgcolor="green" size="32">SHOOP!!</caption>
  <caption location="top middle" fgcolor="blue" font="itcedscr" size="24">Time is the sweetest of all ... shoop?</caption>
  <caption location="bottom middle" fgcolor="orange" size="12">But how could it run on my little desktop machine?  Not enough power...</caption>
</panel>
<panel>
  <character name="lenin" aspect="faceleft"/>
  <caption location="top left" fgcolor="red">Time to worry about big holes opening up?</caption>
  <caption location="bottom middle" fgcolor="orange" size="12">Huh.  Here's code to tunnel to IP 64.71.165.130.  Must be some big server sitting there.</caption>
  <character name="lenin" action="leaves"/>
</panel>
<panel>
  <caption location="top left" fgcolor="green">THOIK!</caption>
  <caption location="top middle" fgcolor="red">Len?  Len?  Speak to me, Len!</caption>
  <caption location="bottom middle" fgcolor="orange" size="12">Darn.  No rDNS on that IP.  Let's check whois at arin.net, then.</caption>
  <character name="mao" action="leaves"/>
</panel>
<panel>
  <caption location="top left" fgcolor="green">POONT!</caption>
  <caption location="top middle" fgcolor="blue" font="itcedscr" size="24">Forsooth, mayhap 'twould be time to panic.</caption>
  <caption location="bottom middle" fgcolor="orange" size="12">Huh.  Hurricane Electric, and rented to ... KEENSPOT.COM.</caption>
  <character name="will" action="leaves"/>
  <character name="portal" action="leaves"/>
</panel>
<panel>
  <caption location="top left" fgcolor="green" size="32">THPONG!!</caption>
</panel>
<panel>
  <caption location="top left" fgcolor="orange">Bot?  Where did my characters go?</caption>
  <caption location="top right" fgcolor="blue" font="ocraext" size="24">damonk is a creep.</caption>
  <caption location="bottom middle" fgcolor="orange">How true.  I should never have consented to this stupid crossover.</caption>
</panel>
</cartoon>