Toonbots message board: Emsworth's fan XML
[ toonbots home ] [ message board archive ] [ the toon-o-matic software ] [ forum ]
Michael
Wed May 23 01:34:08 2001
Emsworth's fan XML
Emsworth becomes #2 Jihad XML expert with his submission of fan XML. I'm really eventually going to get the Toon-o-Matic running on Solaris for y'all. Shortly after BoxJam does his spinoff page, I suspect, at the rate I'm going.
With no further ado, I present to you: Emsworth!
(For what it's worth, this is better than my episodes usually turn out on the first try, and I have the Toon-o-Matic here to test them with. I'm truly impressed.)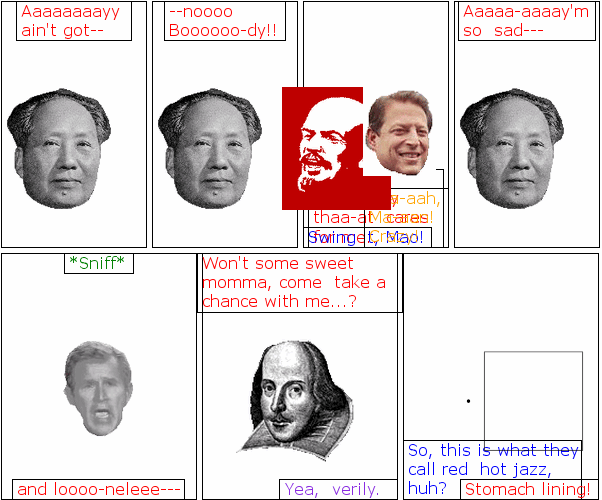 Brother Emsworth Wed May 23 09:01:47 2001
Re: Emsworth's fan XML

I clearly need to take another look at the code I used. A whole panel disappeared somewhere, for one thing. And the heads are larger and take up more space than I'd espected. I obviously need to alter the height and width as well. Ah, well. It could have been worse, but Mao seems eerier in my fan XML than he usually is in the strip.
Tirdun Wed May 23 10:27:21 2001
Re: Emsworth's fan XML

WOO-HOO! I laughed like an idjit, even with the errors. On that, it looks better than my attempt, which was truly awful before Michael fixed it.

Brother Emsworth Wed May 23 14:22:55 2001
Re: Emsworth's fan XML

> WOO-HOO! I laughed like an idjit, even with the errors. On that, it looks
> better than my attempt, which was truly awful before Michael fixed it.

Well, thank you, Tirdun. Now, do you recognize the song which inspired this particular entry? And who sang it?

Michael Wed May 23 14:53:05 2001
Re: Emsworth's fan XML

> Well, thank you, Tirdun. Now, do you recognize the song which inspired
> this particular entry? And who sang it?

Well, duh. "Gigolo's Love Song," David Lee Roth. Sheesh. You young people.

Pooga Wed May 23 18:02:21 2001
Re: Emsworth's fan XML

> Well, duh. "Gigolo's Love Song," David Lee Roth. Sheesh. You
> young people.

Um, while DLR DID cover the song, since this is Ems, my guess is he's refering to the Louis Prima version. :)

Brother Emsworth Wed May 23 20:36:19 2001
Re: Emsworth's fan XML

> Um, while DLR DID cover the song, since this is Ems, my guess is he's
> refering to the Louis Prima version. :)

Correct, O Pooglian one, though I didn't think the "Just a gigalo.." portions were all that suitable for Mao (Now, Shakespeare, maybe.) I'm rather partial to Louis Prima, I confess ("A Banana Split for My Baby" is another favorite of mine.)

Napoleon Wed May 23 21:12:18 2001
Re: Emsworth's fan XML

> Correct, O Pooglian one, though I didn't think the "Just a
> gigalo.." portions were all that suitable for Mao (Now, Shakespeare,
> maybe.) I'm rather partial to Louis Prima, I confess ("A Banana Split
> for My Baby" is another favorite of mine.)

*defenestrates Louis Prima*

Napoleon Wed May 23 21:13:24 2001
Re: Emsworth's fan XML

> *defenestrates Louis Prima*

Y'know, today's a good day to get my post count back up...

Brother Emsworth Wed May 23 21:23:26 2001
Re: Emsworth's fan XML

> Y'know, today's a good day to get my post count back up...

*lets the wolverines loose to chew on the post counts*

Might also be a good evening to discuss more cartoons, or old theme songs, or whatnot. For example, what was the strangest animated film you ever saw, Napoleon?

Napoleon Wed May 23 21:47:04 2001
Re: Emsworth's fan XML

> Might also be a good evening to discuss more cartoons, or old theme songs,
> or whatnot. For example, what was the strangest animated film you ever
> saw, Napoleon?

Hrm. That's a good question.

Especially when I right now can't think of a single answer to it...

There was a series of animated Grimm shorts I used to be addicted to and now can find no evidence of ever having existed (and our copy was on Beta... feh), but I don't think that's quite what you meant.

Brother Emsworth Wed May 23 22:07:31 2001
Re: Emsworth's fan XML

> Hrm. That's a good question.

> Especially when I right now can't think of a single answer to it...

> There was a series of animated Grimm shorts I used to be addicted to and
> now can find no evidence of ever having existed (and our copy was on
> Beta... feh), but I don't think that's quite what you meant.

Ah. Well, then, here;s an example of a weird animated film I saw. I think "Mad Monster Party" was one of the trippiest animated films I ever saw. It was produced in stop-motion by Rankin-Bass (of "Rudolph" fame), with various film monster characters traveling to Baron Frankenstein's castle for a meeting to decide the Baron's successor. Baron Frankenstein was voiced by Boris Karloff, and the stop-motion figure looked like him too. The Monster's Mate looked like and was voiced by Phyliss Diller. The Bron's nebbish nephew sounded like Jimmy Steart, the Invisible Man talked like Sydney Greenstreet, at the party, all the monsters get drunk and dance to the hit "Do the Mummy!" Weird songs throughout, especially when Boris picks up a skull banjo and plays a sprightly ditty called "Stay One Step Ahead" while weird bats and things chase after his nephew. The Baron's slinky secretary Francesca actually gets into a cat fight with Phyllis Diller, and they tear each others clothes off (and this was supposedly a kiddie film!) The opening credits feature wird sound effects while the appropriate caption appears on screen ("Yowch," "Eeek," "Burp," etc.) King Kong shows up for no reason. And the ending is down right bizarre. Very strange film.

Napoleon Wed May 23 22:43:17 2001
No longer about Emsworth's fan XML

Aaaaaah! You reminded me of the Claymation stopmotion film thingy I used to watch and love when I was a kid, that nobody else believes me when I talk about! It had a castle, and lots of monsters, and a pig. And a SNAIL! And the pig wanted to play in the castle lab or something, so he and the snail posed as Dr. Jekyll and Mr. Hyde.

And it had a strange ending too, involving vampire teddy bears and such.

And *babbles insanely*

Brother Emsworth Thu May 24 14:50:53 2001
Claymation Comedy of Horrors

> Aaaaaah! You reminded me of the Claymation stopmotion film thingy I used
> to watch and love when I was a kid, that nobody else believes me when I
> talk about! It had a castle, and lots of monsters, and a pig. And a SNAIL!
> And the pig wanted to play in the castle lab or something, so he and the
> snail posed as Dr. Jekyll and Mr. Hyde.

> And it had a strange ending too, involving vampire teddy bears and such.

> And *babbles insanely*

"Claymation Comedy of Horrors" was the title of this special, produced by Will Vinton of "California Raisins" fame and I believe it was directed by Barry Bruce. It first aired on CBS on May 29, 1991. The pig was named Wilshire (and was featured in "A Claymation Easter" the next year), and the snail was Sheldon. If memory serves me, the pig was hoping to access Dr. Frankenswine's lab so he coudl revive the monster with some elixir or potion or whatnot, and get rich or take over the world or something. The snail was nicer, I think. At one point, I remember the pig riding on the giant Frankenstein's monster type thingy while singing snatches of "Climb Every Mountain." And I remember the ending, I think, where a rock turns into an evil looking bear.

Until recently, the video was listed as available for ordering from the Whole Toon Catalog, but has been removed from their latest edition, so either it's out of print or it is available but in such insufficient quantities that one must call to confirm availability (in case you'd care to do so, the number is 1800-331-6197. Plus, you can ask for a free catalog full of strange cartoony goodness!)

Napoleon Thu May 24 15:42:05 2001
Re: Claymation Comedy of Horrors

You, sir, are my hero.

Well, along with eBay.

Pooga Thu May 24 23:19:24 2001
Re: Claymation Comedy of Horrors

> You, sir, are my hero.

> Well, along with eBay.

My brother is eBay! Well, actually ebaye, but it's long been a source of amusement to him. Or something.

Look! A three-headed monkey!

Napoleon Thu May 24 23:24:44 2001
Re: Claymation Comedy of Horrors

> My brother is eBay! Well, actually ebaye, but it's long been a source of
> amusement to him. Or something.

> Look! A three-headed monkey!

*defenestrates it*

Pooga Thu May 24 00:28:30 2001
Re: Emsworth's fan XML

> *lets the wolverines loose to chew on the post counts*

> Might also be a good evening to discuss more cartoons, or old theme songs,
> or whatnot. For example, what was the strangest animated film you ever
> saw, Napoleon?

Pretty much all of the Gene Deitch Tom & Jerry shorts are in the running for me (Those are the ones where Tom & Jerry are drawn in a very flat style, all the sound effects seem incredibly synthesized, and the plots make even less sense than usual.). To be honest, when I first saw them they freaked me out, and not in a good way.

One that might appeal more to the Toonbots crowd is "The Dot and the Line" by Chuck Jones. Granted, the story is of the fairly traditional "Line meets Dot, Line falls in love with Dot, Dot is lured away by the excitement and unpredicability of the Squiggle, Line wins back Dot's affections by learning how to make himself into complex but mathematically exact shapes" variety, but I think that's a message all Jihad members can take to heart.

Another oddball Chuck Jones production for which I hold a soft spot in one of my internal organs is "The Bear That Wasn't". An almost Suessian story of a bear who goes to hibernate one winter and awakes to discover that civilization has popped up around him. As he tries to discover what happened, he's told repeatedly by men of successively higher position that he's obviously not a bear, but a silly man in a bear suit, until he is finally convinced of this. He holds down a job for a while until he wanders off to the woods and goes to sleep in a cave. Hmmm. That description really doesn't do the story justice, but it gives you the jist of it.

I've since seen weirder. There's been quite a few in animation festival compilations, Liquid Television, and foreign animated shorts that I believe I saw primarily on IFC when we had that channel. I remember this one stop-animated short with something like six men standing on the edges of a platform with a chest or music box or portable Victrola or something in the center. Any time one of the men would move, the platform would shift and they would all have to move to reestablish a balance. Anyway, one starts shamelessly shifting so that the box slides to him. Then they start to get into a battle of sort, changing the balance to move the box closer to themselves. Soon they start falling off the edge. If I recall correctly, the last one pushes the second-to-last off intentionally (who was hanging by his fingers to the edge), but in doing so, causes the box to nearly fall off the platform. To correct this he has to move to the opposite end. It ends with him standing alone at the one end and the box at the other. Unfortunately, I cannot recall the title or director.

Anyway, those are my contributions for now. I'm sure I'll remember more later. :)

Brother Emsworth Thu May 24 00:42:57 2001
Weird Cartoons

> Pretty much all of the Gene Deitch Tom & Jerry shorts are in the
> running for me (Those are the ones where Tom & Jerry are drawn in a
> very flat style, all the sound effects seem incredibly synthesized, and
> the plots make even less sense than usual.). To be honest, when I first
> saw them they freaked me out, and not in a good way.

Those are pretty weird. The soundtracks are the strangest part, in my opinion. I like Allan Swift, but some of the voices he used in those shorts for the various incidental people added to the weirdness factor. I remember one short where for some reason Tom and Jerery are accompanying a big game hunter on a safari and run into trouble with an elephant who slightly resembles a meaner version of Sidney the Elephant, imo.

> One that might appeal more to the Toonbots crowd is "The Dot and the
> Line" by Chuck Jones. Granted, the story is of the fairly traditional
> "Line meets Dot, Line falls in love with Dot, Dot is lured away by
> the excitement and unpredicability of the Squiggle, Line wins back Dot's
> affections by learning how to make himself into complex but mathematically
> exact shapes" variety, but I think that's a message all Jihad members
> can take to heart.

Robert Morley narrated, too. Unfortunately, while I saw a clip of the short on that recent Chuck Jones PBS special, I haven't seen the cartoon in its entirety in years, since I was in fourth or fifth grade or whenever they stopped airing old Tom and Jerry and other MGM shorts weekday mornings in syndication.

> Another oddball Chuck Jones production for which I hold a soft spot in one
> of my internal organs is "The Bear That Wasn't". An almost
> Suessian story of a bear who goes to hibernate one winter and awakes to
> discover that civilization has popped up around him. As he tries to
> discover what happened, he's told repeatedly by men of successively higher
> position that he's obviously not a bear, but a silly man in a bear suit,
> until he is finally convinced of this. He holds down a job for a while
> until he wanders off to the woods and goes to sleep in a cave. Hmmm. That
> description really doesn't do the story justice, but it gives you the jist
> of it.

Actually, they call him a "silly man, who needs a shave, and wears a fur coat." Paul Frees did all the voices, and I think Frank Tashlin wrote the original story. I have it taped somewhere. Yeah, that one was pretty oddball, but I liked it. Very different story for a cartoon.

> I remember this
> one stop-animated short with something like six men standing on the edges
> of a platform with a chest or music box or portable Victrola or something
> in the center. Any time one of the men would move, the platform would
> shift and they would all have to move to reestablish a balance. Anyway,
> one starts shamelessly shifting so that the box slides to him. Then they
> start to get into a battle of sort, changing the balance to move the box
> closer to themselves. Soon they start falling off the edge. If I recall
> correctly, the last one pushes the second-to-last off intentionally (who
> was hanging by his fingers to the edge), but in doing so, causes the box
> to nearly fall off the platform. To correct this he has to move to the
> opposite end. It ends with him standing alone at the one end and the box
> at the other. Unfortunately, I cannot recall the title or director.

"Balance," 1989, Academy Award Winer. Forgotten who the director was, though, I'll have to see where I put the video of it (with other Award winning international shorts as well.) I first saw that one on PBS years ago, and I think it rather disturbed and confused me at the time.

Pooga Thu May 24 14:52:26 2001
Re: Weird Cartoons

> Those are pretty weird. The soundtracks are the strangest part, in my
> opinion. I like Allan Swift, but some of the voices he used in those
> shorts for the various incidental people added to the weirdness factor. I
> remember one short where for some reason Tom and Jerery are accompanying a
> big game hunter on a safari and run into trouble with an elephant who
> slightly resembles a meaner version of Sidney the Elephant, imo.

When I checked IMDb for the spelling of "Deitch", I discovered much to my surprise that he (Gene Deitch) had also directed a "Krazy Kat" TV series (co-directed two shorts, a series and a second series "Beetle Bailey and His Friends" which included Krazy Kat if you want to get technical). Paul Frees did the voices of Ignatz Mouse and Oficer Pupp. Considering the company they're keeping (Beetle's other "friends" are the Barney Google/Snuffy Smith clan), maybe it's for the best that I have never seen these.

> Robert Morley narrated, too. Unfortunately, while I saw a clip of the
> short on that recent Chuck Jones PBS special, I haven't seen the cartoon
> in its entirety in years, since I was in fourth or fifth grade or whenever
> they stopped airing old Tom and Jerry and other MGM shorts weekday
> mornings in syndication.

It was weekday afternoons in our neck of the woods. I believe I've seen it once or twice on the Cartoon Network, possibly on the Acme Hour, but as with any show that is a collection of of shorts, there's no way to tell when a particular cartoon will surface in the lineup. :/

> "Balance," 1989, Academy Award Winer. Forgotten who the director
> was, though, I'll have to see where I put the video of it (with other
> Award winning international shorts as well.) I first saw that one on PBS
> years ago, and I think it rather disturbed and confused me at the time.

Now that you have kindly supplied the title and year, it was but the work of a moment to dash off to IMDb again and determine the salient facts regarding the bit of celluloid in question (Sorry, just got back from a break during which I was reading a selection from "Tales from the Drones Club"). The directors are Christoph & Wolfgang Lauenstein of Germany. Seems to be their only work. I got a few of the details wrong (it's a sealed trunk from which you can hear music if you hold it to your ear; they are all fishing off the side of the platform and one catches the trunk) but the salient matters seem to be more-or-less spot on.

Michael Wed May 23 22:22:44 2001
Re: Emsworth's fan XML

> Y'know, today's a good day to get my post count back up...

Now that's the kind of spunk I like to see around here.

Pooga Thu May 24 00:32:17 2001
Re: Emsworth's fan XML

> Correct, O Pooglian one, though I didn't think the "Just a
> gigalo.." portions were all that suitable for Mao (Now, Shakespeare,
> maybe.) I'm rather partial to Louis Prima, I confess ("A Banana Split
> for My Baby" is another favorite of mine.)

He's why The Jungle Book is one of my favorite Disney films, although Phil Harris is also a big reason. :)
TimberBram Wed May 23 14:53:13 2001
Re: Emsworth's fan XML

> With no further ado, I present to you: Emsworth! (For what it's worth,
> this is better than my episodes usually turn out on the first try, and I
> have the Toon-o-Matic here to test them with. I'm truly impressed.)

I confess to following Toonbots only off and on, but it has always been worth a chuckle or two.

I rather like Emsworth's contribution, as well. Even the garbled panel only provides more interest.

Peace, Tim Bram.

Michael Wed May 23 14:55:38 2001
Re: Emsworth's fan XML

> I confess to following Toonbots only off and on, but it has always been
> worth a chuckle or two.

HA! I confess to *writing* Toonbots only off and on! So I win!!!

...

Wait.

> I rather like Emsworth's contribution, as well. Even the garbled panel
> only provides more interest.

I agree on that. My goal, of course, is for the fans to do all the work for me. It's a twisted plan, but I think I can make it work.

Brother Emsworth Wed May 23 15:05:01 2001
Re: Emsworth's fan XML

> I confess to following Toonbots only off and on, but it has always been
> worth a chuckle or two.

> I rather like Emsworth's contribution, as well. Even the garbled panel
> only provides more interest.

> Peace, Tim Bram.

Why, hello, Tim, and thanks very much. Glad the garbled panel provided further interest (though I still may try to fix that later on.)